It's time for a Wrap-up post. I didn't write it right the the end of the month because I had to write one more review, and also because it's been a dark and sad weekend for me.
On my October's TBR 2015 list there were 5 novels:
Dead of Night (Aftershock #1) by Carlyle Labuschagne
Worth It by Linda Kage
The Secret Mother by Vicky Delderfield
Imperfect Love by Isabella White
Second Hand Jane by Michelle Vernal
A Poisonous Journey: A Lady Evelyn Mystery
As you can see, I've only read 3 out of the 5 books on my to be read list. I've also read Moonbreeze (The Dragonian Series) by Adrienne Woods. It's been a slower month than September. In other words, I've read only 4 novels this month. Anyway, I'll wrap-up October, and post my November's to be read list.
Moonbreeze (The Dragonian Series #4)
by Adrienne Woods
The forth book in The Dragonian Series. I waited for this book to come out for quite a while.
It is divided into 4 parts, and it has around 700 pages. I didn't expect it to be that long.
This book was a surprise; both in good and bad ways. The plot goes further a little bit, especially when it comes to Goran and Edan. However, I felt that the character development did not; actually, in my opinion, we're kinda where we started in Firebolt. I am talking especially about Elena.
There was also a darker feel to this book, especially due to certain scenes.  This book is no longer an YA novel, which is true. However, the first 3 books in the series are YA, so I don't know what teenagers are suppose to do. Wait until they're 18+ so they can finish the series?
There is a lot to say about Moonbreeze. I didn't write a review yet. I was planning on doing it closer to the release date, which was suppose to be in November 20, but it was released a month earlier. Also, I needed some time to think it through, and gather my thoughts. Right after I finish the book I had certain feeling, but after a few days it changed.
I'll write the review this weekend, so stay tune! 😉
The Secret Mother by Vicky Delderfield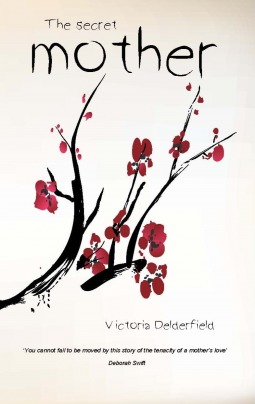 This novel is a contemporary, adult drama. When I say drama, I mean it's not a light read, and it has sad themes. Real life issues, but sad nonetheless.
It is about Mai Ling, a teenager who runs away from home because she doesn't want to marry the man her parents chose for her. Her decision is influenced by her cousin as well, since Mai was promised a new, better life in the city, including a job at a car factory. Luckily for Mai, she does get hired. Unfortunately, there is also the place where her life starts to go South, even though at first she's naive and doesn't realize it. Long story short, Mai ends up pregnant with her boss. She gave birth to two little girls. Sadly, it is also the moment when Mai lost her job, and she cannot take care of her babies, since she's homeless. She tries so hard, but in the end she had to abandon her girls at a orphanage. Mai's twins are adopted by an English couple, and Mai decided she'll follow them. The story line is fragmented into two parts: past and present. We get to read Mai's story and what happened to her in China, but we also get to read about Mai's twins and their present life in England. It was really interesting to read from Mai's perspective, but also from her twins'.
I recommend this books to anyone who wants to read about a mother's love, adoption, hope, loss, family, forgiveness and life's hardships. I gave this book a 5/5 rating. You can read my detailed review here.
Second Hand Jane by Michelle Vernal
Another nice novel. This time it is a contemporary adult romance. It is about a Kiwi journalist living in Dublin, Ireland. I found the setting quite interesting, since most romances are set in either England, or USA.
Jessica, or Second Hand Jane, is in her 30s, and she likes to shop at thrift stores. She also loves to collect children's book, which sends her on a journey. Jess buys another children's book who used to belong to a girl name Amy. She wants to find Amy, and write her story in her newspaper. This sends her all the way to North Ireland, where she meets Amy's brother, Owen. However, Amy's story is a sub-plot, since the main plot of this novel is Jess finding a nice man.
I have to say, at first I though it was boring. I've read the first 2-3 chapters and it was hard to get into the story. However, after that the story started to unfold, and to kick in. So, if you think the first chapters are boring, hang in there. It gets better after the first few chapters.
I liked the romance in this novel, especially since the hot, abusive man is described as hot and abusive, not as the perfect boyfriend. When Jess realizes that the man she's dating is an asshole, she ends it, and chooses to be with the good guy. Again, refreshing (hint. YA/NA). I also liked the fact that the story was clean, even though it's an adult romance. Yes, the characters have sex at some point, but it is not described in details that make you feel you're reading porn. Jess never thinks or says stuff like "I'm riding his cock", "Oh, I'm so wet". My issues with is that if I want to read this kind of novels, I'll go to the erotica section. I mean, we're in big trouble if the biggest differences between adults and teenagers is the fact that adults have dirty sex. It's not the sex scenes that makes a novel mature; it's the writing quality, the issues discussed, the way the characters think and act, so on. And I'm ranting.
Overall, a nice book.  I gave this book a 4.5/5 rating. I recommend it to anyone who wants to read about Northern Ireland, Ireland, romance, friendship, loss, mother-daughter relationship, and new beginnings. You can read my detailed review here.
Worth It by Linda Kage
Ah, I love the cover. It's so pretty. ❤
This is another adult romance, about another girl with red hair, but this time the story takes place in USA. The novel's time line is fragmented: past and present. It is also told in different point of views; two to be more specific. Knox's side of the story, and Felicity's perspective. One chapter is in the past, the next is in the present.
I liked the synopsis, and I though it would be pretty interesting, especially since it appeared to be from a guy's point of view. It is, at least half of it.
The novel is modern Romeo and Juliet. Two families that hate each other have two children that end up falling in love. In Worth It, Romeo aka Knox, goes to jail thanks to Felicity's father. The past chapters were about Knox and Felicity being young, and falling in love. Most of them were pretty cute, with the exception of a few scenes.
The present chapters had more problems, especially when it came to Felicity's point of view. Some of the things didn't make any sense at all. For example, Felicity mentioned several times that he waited for Knox for 6 years, and she loves her so much. However, she tried to visit him in prison only once, when she was 18; no call, no letter, no presents, no nothing. And then she had the nerve to complain that Knox wasn't too happy to see her when he finally got out of prison. Or the literary rape, and the "sex heals Knox's woulds". If you take out the sex, there isn't anything real between these two; only a couple of months spent together when they were kids.
I also think the novel should be labeled as erotica, since it does have very detailed sex scenes, including when Felicity was 15-16. I wasn't expecting it, since it wasn't mentioned. I though it was some kind of chick-lit, like The Second Hand Jane, but with a different plot.
Because of the reasons mentioned above, and others, I gave this book a rating of 3.4/5. You can read my detailed review here.
And that's about it. This are all the books that I've read in October. Now, lets talk about November
November T.B.R. List
Dead of Night (Aftershock #1) by Carlyle Labuschagne
In a dark and desolated After Earth, love still does exist, but the cost of bearing such a flaw is death.
World War III has left Earth in utter turmoil. People's beliefs are said to be the cause of the worldwide destruction. After The Clearing new laws are set about – to show certitude in anything besides the law is weak and chargeable as mutiny. To be illogical and have faith in religion is illegal, to be limitless is dangerous. And Illness is seen as a defect – all flaws that are inexcusable.
But to love is the greatest betrayal of all man kind. It is a fault the world has long forgotten and punishable by death, a fatal risk Aecker and Opel are fully prepared to take – because in love there is freedom. But how far can they push back before it claims their lives and of those they care about?
A Poisonous Journey: A Lady Evelyn Mystery
I already started reading this book, but I didn't finish it in October.
The year is 1925, a time that hovers between two catastrophic wars, a time of jazz and sparkle, and a time of peace and reflection. For Lady Evelyn, struggling to outrun the ghosts of her tragic past, it is a time of transformation. Left orphaned after a fire when she was only four, Lady Evelyn Carlisle was raised in London by her stern aunt and uncle. Now, twenty years later she has grown restless and is keen to escape her chaperone's grasp. A letter from her cousin, Briony, living with her husband on Crete, comes at just the right time. Packing what she can, Lady Evelyn makes off for foreign shores. Welcoming her are not only Briony and her husband, Jeffrey, but also his handsome and mysterious friends, Caspar Ballantine and Daniel Harper. Though the latter carries with him tragic memories of the Great War, Evelyn is glad to be in their company. With the sun warming her back and the dazzling sea in her sights, this fresh start seems destined for happy days ahead. Little does she know . . . What starts off as a sunny holiday quickly turns into a sinister nightmare, when Evelyn stumbles across the corpse of one of her cousin's houseguests. Drawn into the mystery surrounding the murder, Evelyn embarks on a mission to discover the truth, forcing her to face her own past as well as a cold-hearted killer. With the help of her cousin, the handsome local police detective, and the mysterious Daniel Harper, will she uncover the truth, before another life is claimed? A varied cast of characters, an engaging mystery at its core, an exotic setting, and a thoughtful, plucky heroine provide a story that will appeal to fans of many genres.
Imperfect Love by Isabella White
At 24 years old, Holly Scallanger has the perfect life. Everything a girl could want; a beautiful man, a stunning home, as well as being in the midst of preparing for the wedding of her dreams. This all vanishes the night she catches her fiancé, Brandon Morgan, in bed with her worst nightmare, Donna Sinclair, just a week before Holly is set to walk down the aisle.
Attempting to recover from his betrayal, Holly swears off the affections of men in order to pick up the pieces of her crumbling life. Unfortunately, meeting Jake 'Hooligan' Peters is not part of her plan. The tall, dark-haired and handsome as hell med student, sweeps Holly away from the pain of her past and reveals to her the bright future that lays ahead. That is, until she falls pregnant just as Jake begins his internship at P&E; his family's hospital.
Will this love at first sight lead her to the fairytale she has always craved? Or, will she fall victim to a betrayal of the heart yet again?
Can't Lose You by J.R. Brown 
My name is Elizabeth Grace Payton. I just graduated high school and am looking forward to enjoying my last summer with Jayce before we go off to college together. Jayce isn't just my boyfriend, he's my everything.
I've heard stories about people saying there can be one moment that changes their entire life. As if this moment flipped their entire life upside down. They said that once that moment happened things never went back to what could've been, what should've been. I always thought these people were being a little dramatic. I mean, how could one moment change everything? Change your entire life?
Well, apparently I was naïve because that's exactly what happened to me and I never even saw it coming.
One night changed everything. I ended up in the wrong place, at the wrong time. My dreams, my future, and my life were taken away from me. I can no longer be Elizabeth Grace Payton.
I am now Riley Lynn Anderson.
The Last of the Firedrakes by Farah Oomerbhoy 
16-year-old Aurora Darlington is an orphan. Mistreated by her adopted family and bullied at school, she dreams of running away and being free. But when she is kidnapped and dragged through a portal into a magical world, suddenly her old life doesn't seem so bad.
Avalonia is a dangerous land ruled by powerful mages and a cruel, selfish queen who will do anything to control all seven kingdoms—including killing anyone who stands in her way. Thrust headlong into this new, magical world, Aurora's arrival sets plans in motion that threaten to destroy all she holds dear.
With the help of a young fae, a magical pegasus, and a handsome mage, Aurora journeys across Avalonia to learn the truth about her past and unleash the power within herself. Kingdoms collide as a complicated web of political intrigue and ancient magic lead Aurora to unravel a shocking secret that will change her life forever.
Little Girl Gone by Alexandra Burt
Get ready for the next 'must-have' on your reading list. GONE GIRL meets THE GIRL ON THE TRAIN in this stunning, unsettling psychological thriller.**
A baby goes missing. But does her mother want her back?
When Estelle's baby daughter is taken from her cot, she doesn't report her missing. Days later, Estelle is found in a wrecked car, with a wound to her head and no memory.
Estelle knows she holds the key to what happened that night – but what she doesn't know is whether she was responsible…
A Bit Witchy by Danielle Fisher 
Eighteen year old Lena Ashlen is in the middle of an identity crisis, and the people in her life aren't helping. Half of her school thinks she's crazy while the other half has no idea she even exists. Her father and stepmother barely see her through the bottom of their wine glasses, and her only friends are guardian angels who are terrible cheats when it comes to poker. The only constants in her life are her obsessive crushes on both chocolate and Glenn Storm. In between losing her bra, her pride, and her best friend, Lena has no idea how she'll survive her senior year.
When guardian angels begin disappearing and everyone thinks she's to blame, Lena becomes trapped in a case of mistaken identity. But when Glenn and his chaotic family offer to help her find out the truth, she's forced to ask herself whether she's the one who's mistaken. In between the lies and secrets of a past life gone bad, Lena soon learns that if she's ever going to prove they have the wrong girl, she's going to need more than just snark and cleavage to convince them.