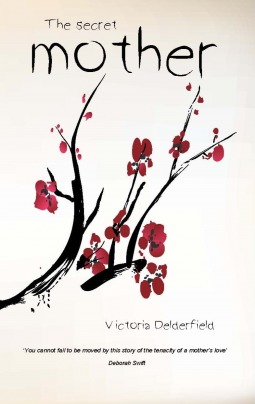 Author: Vicky Delderfield
Pages: 266
Publication Date: September 14th 2015
Publisher: Hookline Books
Genre: Adult Fiction, Contemporary, Drama
[Disclaimer: I received a copy of this book from NetGalley in exchange for an honest review. I would like to send a big thank you to NetGalley for this book, and also to everyone at Hookline Books Publishing, as well as Vicky Delderfieldl herself.]
Description
Mai Ling is chasing the Chinese dream. She's escaping to the city, seeking a new life, running away from the old customs of arranged marriage and domestic drudgery.
The Secret Mother puts a face to the label Made in China. It tells the bitter sweet story of a girl – like millions of others – willing to risk everything. The Secret Mother uncovers the life of Mai Ling, a sixteen year old who follows the Chinese dream and pays the highest price.
My Review
The Secret Mother is a book about women's conditions in China, loss, family, and motherhood. It is a interesting story, however it is not a light read, that kind of book that you read to feel better. It covers dark themes, and most of the times is quite sad.
I've never read a book set in China, or when the protagonists is a Chinese women. One of the reasons why for me this novel was so intriguing.
Mai Ling is a sixteen year old girl who runs away from home, so she will avoid her arranged marriage. She moves from the country side, to the city, and she hopes to make something of herself. Her cousin helps her get job at a car factory. And here all the trouble begins.
Nancy, Rikki and Jen live a normal life in Manchester, England. Their trouble begins when they find out who is Rikki and Jen's birth mother.
I would describe sixteen year old Mai Ling as naive, a little bit selfish, immature, a hard worker, and ambitious. As the story unfolds, she grows up, and matures, but it is sad and sometimes troubling to read what she went through, and what kind of choices she made.
This novel has many modernist elements in it. The story is told in different points of view: Mai Ling, Nancy, Rikki, and Jen. Mai Ling's perspective is written in the past tense, first person. Nancy, Rikki, and Jen's perspectives are written in past tense, third person. In other words, Mai Ling's point of view is the past, the flashbacks, while Nancy & the girl's point of views is the present. The time line is fragmented, instead of linear. The characters' summary is also missing, and we get it as we read the story. The ending is open; you can guess what happens with Mai, but it is not written word for word.
I think it is safe to say that The Secret Mother is a modernist text. Modernist texts are a little bit different than traditional narratives.
The different points of view can be a little bit confusing. Mai's perspective was always clear, since it written in a first person. However, sometimes I was a little bit confused with Nancy, Rikki, and Jen's perspective. Who's this? Nancy, Rikki or Jen? Their point of view is written in the same tense and person. As I read further, I started to differentiate between these three characters, since they have certain traits that set them apart, but in the beginning it can be confusing.
There are two plots, two narratives; one in first person, the other one in the third person. As I mentioned earlier, Mai is the past, while Rikki and Jen are the present. I think we all know these sayings: "the past will always hunt you", "you cannot escape your past", "the past defines you", and so on. And this is what happened with Rikki and Jen. Their past, unknown to them, came into their present, and it turned their world up side down. And in order for them to move into the future, they had to know their past, dealt with it, accept it, and then let it go.
There is also the use of juxtaposition. Mai Ling vs worker 2204. Mai Ling vs May. Rikki vs Jen. England vs China. And so on.
I wouldn't say there is romance in this novel. I would not describe the thing that was between Mai and Manager He as romance. It is wrong in so many ways. I did like the medical student, Yifan. I would've been nice if Mai and Yifan became a couple, but sadly it didn't happen, and I blame both Mai and Yifan.
Small rant. Yifan is described as a good person, and he later on said that he would've accepted Mai, and would've help her, and rise her children as his own. Then why on earth did he let her leave from the hospital? Why wasn't he there when they discharged her? Why didn't he offer her a place to stay? He abandoned her. 😦
And Mai. Why didn't she tell him the truth when she had the chance to? Didn't she learn anything? End rant.
As I mentioned above, there are many dark themes in this novel, but it is realistic. I mean, thinks like this happened in real life, and not only in China. Some people will find hard to read about these kind of stuff, others will not.
Overall, an interesting novel. I recommend it to anyone who likes contemporary, and likes to read about family, motherhood, adoption, and life's hardships.